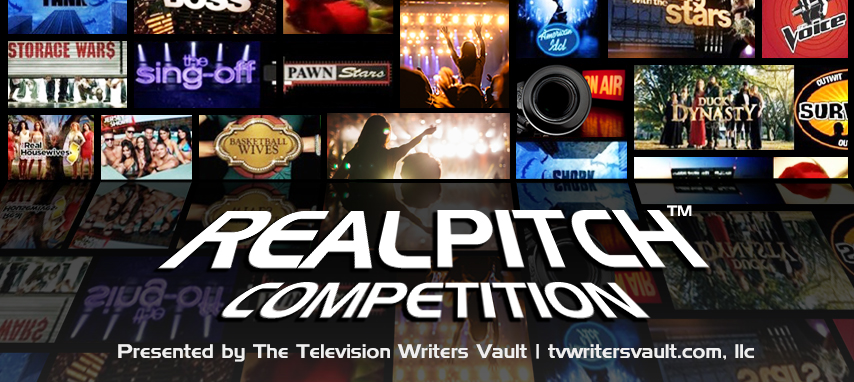 Reality TV Pitch Competition
Presented by tvwritersvault.com, llc 
 Win RealScreen Summit Pass, TV Industry Access & More…
At the TV Writers Vault we love promoting the creativity and talent of our members, and those pitching ideas and formats for reality TV. The "RealPitch Competition" connects new creators with opportunities in our industry, and access to buyers and producers to help further their career in creating new unscripted entertainment. To date, the TV Writers Vault has been a unique platform where reality TV producers have discovered new projects resulting in shows aired globally on major networks. The "RealPitch Competition" will become an added beacon of talent deserving of recognition and result. Be sure to read some of our professional advice on creating and pitching reality TV show ideas further below, then submit your Reality TV Pitch for entry exclusively at FilmFreeway. We accept entry of pitches in all categories of unscripted TV: Documentary Series, Reality Format, Factual, and all hybrids.
---
Winner Receives:
RealScreen Summit Pass – Value $1
750

Our promotional partner RealScreen is providing this invaluable experience for any creator pitching new formats for unscripted television. Realscreen Summit has, over the past 20 years, cemented its standing as the definitive global market and conference for the business of unscripted and non-fiction entertainment. Top executives attend Realscreen Summit to network, procure projects, and engage in critical dialogue. Who's there, and what do you get with your RealScreen Summit Pass?…
1200 Producers & Distributors

400 Content Buyers

Cocktail and Networking Events! Here's where you'll rub elbows and get one on one face time with executives during casual mixers, and pitch sessions!
http://summit.realscreen.com/2018/networking_opportunities/

Access to all of the sessions, keynotes and "30 Minutes With" sessions

Ability to sign up for Speed Pitching, Luncheon Roundtables, Meet a Mentor, Meet an Expert

Delegates' lounge access throughout the event, plus Breakfast or Lunch on designated days.

Delegate gift bag and handbook

Discounted room rate at the Marriott Marquis, based on availability
2 Year TV Writers Vault Membership & Pitch Listing – Value $500

The industry's first online platform for pitching to deliver ideas to air globally on networks such as Lifetime TV, Discovery, A&E, SyFy, Velocity, UKTV and more. Your winning reality TV pitch will be listed in our industry marketplace for scouting by many of today's top Reality TV producers and executives. During your two year membership at the TV Writers Vault you're sure to find more inspiration for shows, so why not pitch two more! More projects equals more action, and more action increases the odds of a sale.
2 Additional Premium Pitch Listings at TV Writers Vault – Value $100
Direct Query of Producers & Executive Members at the TV Writers Vault to Scout Your Pitch
We'll notify all executives and producers at the TV Writers Vault that your winning pitch is now listed and available for discussion and proposals. It's our way of turning up the heat, and connecting your pitch with the right producer.
---
Top Ten Finalists Receive:
1 Year TV Writers Vault Membership & Additional Pitch Listing – Value $275
---
Entrants may submit a written description of their Reality TV Show concept, along with links to any media (video reel, supporting info, etc.). Finalists will be notified and announced December 9, 2018, and Winner notified and announced December 15, 2018..
Click the FilmFreeway button below to ENTER YOUR REALITY TV PITCH,
---
KEYS TO CREATING REALITY TV FORMATS:
Don't get lost in explaining why the idea works, or why the subject is timely…Pitch what we're specifically and potentially watching. /em>
No matter the subject or genre, find the heart of the story.
Key on characters with unapologetic personalities, living authentic lives unlike anything we've seen before.
If you're pitching a reality-based format with a specific structure (challenges, elimination, etc.) don't forget it is still always and only about an emotional experience for the participants. Even game shows are "dramas".
Don't underestimate the power of the one line pitch (Logline). If you can't distill your concept down to one sentence that tells and sells the heart of your story, then that heart may not be anywhere in your pitch. Know the heart of your idea!
Be as detailed and unique as possible with the various elements of your game so that your format is original.
WHAT

'
S HOT AND WHAT'S NEXT

:

Unscripted, factual, reality-based content will always find an audience. In and around that world, we see patterns and evolution of ideas, but they always come full circle. Right now, documentary series exploring unique people and subjects is something audiences love and producers would love to discover. It's as much about "casting" as it is about the idea. The plight of that person(s) becomes the backbone to the series, and we're watching real people face real challenges on way to attaining a goal that personally impacts their lives. Moving into the more structured formats, dream fulfillment and personal aspiration is the core of any hit reality series, and producers would love to find that next breakout formula.
ORIGINALITY:
While shows are often derivative of proven formats, a network is only going to launch an original series to audiences if they know they have a truly original show with content viewers haven't seen before. It doesn't mean that there aren't elements that we're already familiar with, but it means that they're looking for the overall experience and hook to be original. What I've always kept as my touchstone when developing any format is that anything and everything within that format serves the concept or hook that is the signature of the show. You're creating a puzzle that requires all parts to fit and fuel one another, and when working together in unison it delivers your vision of the series we're watching unfold.
Check out the TV Writers Vault "Creating Reality TV Pitches That Sell" page for some creative insight. Here's a blurb from the article:
"Here's one trick to help identify potential subjects for docu-style reality series- They are essentially sitcoms and drama series'. Regardless of the genre, it is always and only about Story. "Duck Dynasty" could also be a great premise for a sitcom. "Deadliest Catch" could be the premise of a great drama series. So when you look at your world, and the world around you, look for areas of activity and people that generate incredible moments and stories."
---
Click the FilmFreeway button below to ENTER YOUR REALITY TV PITCH: