How To Write & Pitch Loglines That Sell
Selling a TV script or Movie? Here's 4 keys to craft the short pitch that sells your movie or TV series pitch. 
By Scott Manville
Founder, TVWritersVault.com | Contributing Writer, National Association Television Program Executives (NATPE)
If there's one thing that can make or break a TV or movie pitch, it's the Logline. Producers know it all comes down to marketing the core premise and plot of the script or idea. The two or three sentences written as a Logline distilled from the full screenplay or TV format needs to deliver the core idea and provoke intrigue. A captivating logline can trigger the reader to see the potential for entertainment value and want to see that TV series or movie made. They'll want that script or treatment to work. It gets them emotionally invested". And that's always a great way for any producer to dive into a script or treatment pitched.
Another value of a great logline is how well it "travels" when a writer pitches a producer. That producer pitches an executive, and that executive pitches their boss. That one or two sentence idea becomes the catalyst for every step in the process of development, pitching, producing, and ultimately marketing to the viewers and audiences. Those few sentences are a point of departure for the full story, but they remain the touchstone for everything to serve that core idea.
Here's some professional advice on writing and pitching loglines that sell:
Know The Difference Between A Tagline & A Logline

:

Movies can be marketed to the public with taglines that sound compelling, but they don't give the details required when pitching to sell a project.

"In a world where justice has failed, one woman fights to expose the truth!" is an example of the type of "poster tagline" we might see, but it gives us more of the theme of the film, rather than the actual story.

When writing and pitching a logline for a new screenplay, the one-liner can still have clever wording, but needs to be much more explicit. Here's what a logline might be for the same movie-

"When a miscarriage of justice sets free a corrupt politician, Rebecca Manning goes deep inside the underbelly of K-Street and the world of Lobbyists to expose the truth".

That example tells us the specific premise, the world the story explores, and the specific plight of our main character…in one sentence. It's enough information for a reader to know if they like the subject and story, and if so, their mind will be open to reading more. Also, in reading more they'll have a sense for where the story goes and will be better equipped to know if the right choices were made for how the story unfolds.
Know Your Story

: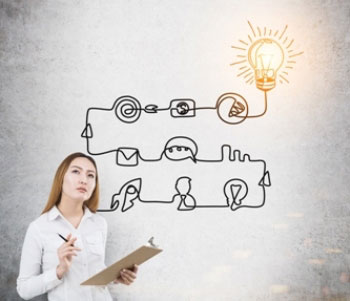 Loglines are also a great litmus test. Writing one will test how well you know your story or concept, and if that story actually has a clear and original core. Knowing the heart of your story and main character helps you develop the best logline for your pitch. In screenwriting & film, the logline almost always focuses on the plight of the main character. In scripted television, a logline may do the same, but can often cover an overall agenda involving the main characters and the world or setting in which it takes place. A logline for scripted TV should be selling the potential for longevity of story development, rather than one singular story. If the pitch is for a Reality TV series or any unscripted series, then it may be as simple as describing the subject and how it plays out so we can see a formula that would create entertaining content.
The Imaginary What-If!
If the first step in selling a pitch for TV of film is having a cleverly crafted logline, then the first step in creating a great story premise is to use the power of your imagination, and one fun way is using "The Imaginary What-If"…. Blending ironic circumstances and characters sets off chemistry, comedy, and conflict. It's a great exercise, and often a gateway to brilliant concepts for story. "What if a young boy befriended a lost alien and brought him home?", "What if dinosaurs were cloned?", "What if a disgruntled high school chemistry teacher began producing meth?", "What if a person awoke form a coma, only to find the world had been taken over by a zombie apocalypse?"… These are the seeds that trigger the imagination of others reading a pitch, and fuel story. Have fun, and get clever with your what ifs!
Nothing Is Perfect, Just Better Or Worse

:

The goal in creating a great logline for TV or film, is to tell what we're actually watching, and not fall into the trap of telling just the theme. It's a balance of both, with more focus on story than theme. When better choices are made, a great logline opens our mind and we can see the potential for story. Lets try a few on for size and see which ones feel the best.

1

"When the patriarch of a family crime dynasty is murdered, his reluctant son must systematically destroy the competing families to bring renewed respect and control."

2

"In a world where anarchy reigns, one woman must fight to survive and find justice."

3

"Marriage is tough enough. But can they survive the Mother-In-Law?"

4

"Two imprisoned men of different class and race find redemption when each must confront their own demons, finding solace and hope through helpful acts of decency among their fellow inmates."

We think Logline numbers 1 & 4 were better than numbers 2 and 3. They're specific enough to show us what the story is actually about. The others serve better as taglines or teasers, but tell nothing of the actual story. Here's a few more examples of TV and Movie pitch loglines to get a feel for how they read…
TV Logline Examples

:

"A most-wanted fugitive works with a rookie FBI profiler to take down criminals and terrorists in this crime series."

"In the years that follow a zombie apocalypse, a group of survivors led by a former police officer, travel in search of a safe and secure home. But it's their interpersonal conflicts that present a greater danger to their survival than the zombies that roam the country."

"A young man leads his oddball family and their real-estate-development business following a securities-fraud fiasco that put the father in jail."

"A look at the high-powered world of advertising in 1960s New York City, from the boardroom to the bedroom."
Movie Logline Examples

:

"A seventeen-year-old aristocrat falls in love with a charming but poor artist aboard the luxurious, ill-fated Titanic."

"A troubled child summons the courage to help a friendly alien escape Earth and return to his home world."

"Competition between the maid of honor and a bridesmaid, over who is the bride's best friend, threatens to upend the life of an out-of-work pastry chef."

"A sexually frustrated suburban father has a mid-life crisis after becoming infatuated with his daughter's best friend."

Since pitching is a process where you're selling the idea and story, let's listen to some of our top professionals on the process of creating and pitching for TV and movies…
---
Writers & Creators On Pitching TV Shows:
"People respond to personal stories. No matter what your story is… attach it to something that really happened…and has that emotional hook, and seems real."

Producer, Bill Lawrence, Talks Pitching TV Shows: ("Scrubs", "Spin City", "Cougar Town", "Friends", "Boy Meets World", "Undatable")
---
"What you're looking for is intention and obstacle. You're looking for conflict."

Emmy and Oscar Winning Screenwriter Aaron Sorkin, ("The West Wing", "Moneyball", "The Social Network", "A Few Good Men") On Finding Ideas: "With The Social Network, I saw a ten page book proposal…and buried in that book proposal were these two lawsuits that were going on. When I saw that- it's not like I could picture the whole movie in front of me or anything, but I just knew that that was a pitch that I could swing at. What you're looking for is intention and obstacle. You're looking for conflict. Generally the conflicts I write about are ideas. It's usually a conflict of ideas, and what you want is for the competing ideas to be equally strong."
---
"If both plotlines are key to your story, you need to make that clear in the logline."
Screenwriter, John August ("Big Fish", "Charlie's Angels", "Titan A.E.", "Charlie & The Chocolate Factory") on Writing Logines for Dual Plot Stories: "If both plotlines are key to your story, you need to make that clear in the logline. Otherwise, you risk future readers feeling like you bait-and-switched them. [My film] "Big Fish"…I make the parallel structure clear: "It's the story of a man's life, told the way he remembers it: full of wild, impossible exaggerations. At the same time, his grown son is trying to separate the truth from the fantasy before his dad dies."
---
"Know your idea inside and out. Be original. Be thorough. And don't be clever…be clear."
Executive Producer, Phil Gurin ("Shark Tank", "Weakest Link") shares his approach to creating and pitching show ideas and building a career. Check out our interview with Phil for some great insight for new writers and producers. From our chat: "KKnow your idea inside and out. Ask yourself all of the hard questions before you go pitch someone your idea. Don't be derivative; if you are, you are probably too late to sell it. Be original. Be thorough. And don't be clever, be clear. It will help in the pitch. What do we want? To watch something that will hold our interest. Whatever that is, whatever mood we are in. Reality television is so mature now that it has the same ups and downs as the scripted business. Things move in waves, in cycles, and one kind of reality will lead to another and then another and then another and then, maybe, back again."
---
Networking to Pitch:
When you have your pitch anchored with a crafty Logline, let it see light! Get it out to producers and executives.

Industry Market Online:
---

Industry Networking:
COMING SOON!
Competitions & Festivals:
COMING SOON!
TV Writing Programs
COMING SOON!