Chris Cowan | Executive Producer, Angel City Factory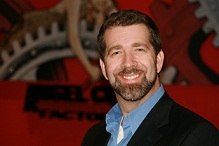 In the world of reality TV, few Producers have made such an impact on the genre as Executive Producer Chris Cowan of Angel City Factory. Scott Manville and the TV Writers Vault bring us this exclusive interview, as Cowan reveals his process of creating Reality-based TV with an unparalleled "high-risk, high-reward" approach, and a priority on storytelling. Cowan, along with his Producing partner at Angel City Factory Jean-Michel Michenaud, is a multiple award-winning Executive Producer and the former principal of Rocket Science Laboratories ("Temptation Island", "Joe Millionaire"). He most recently delivered the hit reality TV sensation, "Mobbed" for Fox, immediately winning an 8-episode series order from the Net. This, on the heels of producing the inspiring do-good/feel-good series, "Secret Millionaire", also for FOX.
Other recent productions include the high stakes game show "Duel" for ABC, the final season of "Trading Spouses" (after a successful 66 episode run), and the new network reality series "When Women Rule the World". Cowan has been responsible for some of network TV's hottest unscripted programming. His credits include three of television's most successful reality creations: the hit relationship series "Temptation Island", the reality comedy "My Big Fat Obnoxious Fiancé", and the ratings juggernaut "Joe Millionaire", the finale of which was seen by over 40 million viewers, ranking it as the third most watched episode of television for the decade.
Having produced hundreds of hours of network television over the past decade, Cowan is regarded within the Industry as the Producer who took reality TV to the next level. We're pleased to share an exclusive conversation with him at the TV Writers Vault and venture inside the mind of this truly inspired Producer.
---
Scott Manville: Chris, thanks for sharing your time with us. First- I watched the premiere of "Mobbed" on Fox and absolutely loved it. And from what I understand, Congratulations are in order as it was just picked up for series (Airing Wednesday, Nov. 23, 2011 at 9/8 Central on FOX).
Chris Cowan: Thanks. It was exciting and chaotic. It's a rare occasion that a special airs and then gets an eight-episode order the next morning. We delight in these moments.
SM: How were you not terrified by all of the orchestration involved in pulling this off…. A Flash Mob, plus their family's involvement, and more than a thousand people learning the choreography, AND acting in parts, leading to one moment at a restaurant that may or may not go well, all for ONE TAKE!? My own Wife can derail our date just by finding out they changed the menu at the restaurant I had planned. You really take "risk versus reward" to a new level.
CC: We don't know any better! We've made a business out of producing high-risk, high-reward shows, whether it's Joe Millionaire, which has the entire investment of a 10-episode series riding on us keeping a secret from 90% of the cast or My Big Fat Obnoxious Fiance, which was a massive contruct built on deception. With Mobbed, we only need to pull off the secret for a night versus what we've done in the past which is maintaining these deceptions for well over 30 and 40 days at a time. While it's daunting when you look at it, our history lends itself well to this type of construct.
SM: I've always felt movies are great fodder for conceptualizing projects for reality television. When I look at the concept and format of "Mobbed", and the story that you've cleverly orchestrated out of that one moment or event, I see that you're essentially producing what would unfold as any exhilarating and beautiful ending would for a great romantic comedy film. Will there always be a happy ending as the series continues? What do you look for in potential "Mobbed" moments?
CC: Basic storytelling has to rule the day in anything you do. You must identify your hero and what the stakes are for that hero and the other characters in his or her life, so that while it is a big pageant-like, massive kind of musical orchestrated to deliver a message, in the end it all comes down to, "What's the story of your main character and what are the stakes in that story for that main character?" That's what we always focus on regardless of the size and scale of the production.
If you've got a good story, you are only augmenting it with the size or scale of your production. No matter what, pageantry can never replace a thin storyline. Are they all going to be happy endings? You hope so, and I think that we feel better when they're happy endings, but what makes Mobbed great is not knowing the outcome. If there's no risk in the fact that the show can go sideways on you, then I don't think you'll feel as invested in the happy ending. If its a slam dunk every single time, then you're just watching for the sake of reaction or the scale of reaction. The potential is always there for a very happy ending but if an alternatively bad ending isn't a possibility, the show is not going to be interesting.
SM: If we look at the slate of hit shows you've produced, there's a terrific variety of stories and stunts. But at the core they all seem to be outrageous social experiments. Is that your initial approach to any concept, and producing for reality tv? Playing with real life?
CC: Yes. Finding an extraordinary adventure in real-life circumstance is something that we have always been drawn to, and we believe wholeheartedly that the independent and normal existence of people is extraordinary and important. Regular people have powerful stories, so we look for those kernels of things that we share in our daily lives, whether it be love of family, searching for romance or answering the question of who's the right partner for you in life. These are all universal truths that the audience lives and we seek to tell those stories in extraordinary ways. Reality TV often captures extraordinary people doing ordinary things which is why the celebrity programming fascinates people, or it takes ordinary people and puts them in extraordinary circumstances living a grand adventure. For us, the real joy is finding great stories in normal everyday life.
SM: Chris, I've followed your career from my days at Griffin Ent., admiring Rocket Science Labs and Mike Darnell of Fox, as you really broke ground for all Producers conceptualizing for reality TV- AND for what viewers would experience. Is it more difficult now to be "original" and groundbreaking?
CC: Without a doubt it's more difficult now. At FOX, ABC, CBS and NBC, there's real stratification in the channel line and the networks have been forced to become even broader in their appeal in order to hold onto their audience share, while the cable universe has become more targeted, so there's a channel for every segment of the audience. Ten years ago, the networks could play in a riskier area. Couple broad audience appeal at the networks with the economic downturn and there's no appetite for risky adventures, which is why you see the broad entertainment-based programming and the legacy shows working.
There aren't many big new concepts that have worked. I just got back from MIP and didn't see that much that's new in the reality format space. Plus, there's so much more competition. There are so many players in this market, and there's been a consolidation of intellectual property owners on the international side with the Banijays, the Fremantles and the Shine Groups of the world. You also have the maturation of the genre. There was a moment in time when almost every good concept in the reality space was being sampled, but now our genre has matured to the same level as scripted. Today, we are held to the same standard as comedies and dramas not only in the originality of the concept but also in how well it is produced.
SM: What do you see as being the biggest impact, good or bad, Reality TV has had on the Industry?
CC: Reality is nothing new. We just have a new term for it. Reality is the oldest genre, dating back to variety shows that helped television get started. Today we call American Idol a reality show format, but it's really an old-time singing competition. Ultimately there's nothing new in reality other than its packaging, but it has allowed for a diversification and broadening of the number of channels that can provide original content because reality can be done cost effectively and with less production. This has helped the cable universe become extremely successful and gain audience share on an annual basis. I would say that's probably reality's biggest impact—allowing for a broad spectrum of channel line ups that tell a multiplicity of stories.
SM: And for viewers?
CC: It's diversity again. I think reality pushes dramas to be great. I think the unscripted genre makes the scripted television better. They feed each other. Overall it creates a healthier entertainment industry.
SM: Can you share with us the current focus of Angel City Factory, with regard to producing? Is there a specific mandate?
CC: Angel City Factory's ultimate mandate is to generate new formats and intellectual property for the world market and to feed into our parent company Banijay's distribution chain. The US is an incredibly important market around the world, and we have had a long track record of creating original ideas. We want to continue to create, develop and produce original formats that we can feed into the international market because I believe there's a need for even more new and interesting ideas.
SM: Where do you see the future of reality television heading with regard to content?
CC: The democratization of the genre is what's really interesting and important, and the genre will continue to be as adventurous as the buyers allow. There's no doubt there are a thousand producers with a crazy glint in their eye doing something really wacky and looking for a broadcaster to air it. While it's been safer on the broadcast level where all of the dollars are, I hope we get back to more adventure. On the cable level, you're going to continue to see a crazy diversity of unscripted ideas and people finding new ways to tell stories. I think that's really healthy. You'll continue to see the broad diversity of cable channels play out for a while and then sooner or later, there will be consolidation. I don't think you can have five different networks targeting the same age bracket of women with the same economic makeup, but right now, I think it's fantastic.
SM: Within reality TV, you have a whole slate of sub-genres (docu-style, elimination/competition, hidden-camera, relationship, etc.). What is your favorite niche to produce, and why?
CC: Anything that has a long arc. I love reality competition arcs and I love relationship arcs. Something that allows you to follow a set group of characters over a long period of time. Something that shows growth. Something that shows the evolution of stories. That to me is by far the sweet spot of the reality genre.
SM: Let me take you back a bit. How did you get your start in this Industry, and what led to developing and producing reality television?
CC: I started producing film shorts when I was in high school. I ended up going to film school at Ohio University and was intoxicated with the medium of film. I loved shooting my own stuff and writing. Then I moved to Hollywood without knowing hardly anyone. I think I had one contact in the industry given to me by one of my sound professors. When I landed in Los Angeles, about four weeks into my residency, I ended up getting a job as a P.A. for $35 a day at a small production company. I bought that production company and turned it into Rocket Science Laboratories.
It was great because we were doing behind-the-scene documentaries, and I was lucky enough to do them for Amblin Entertainment, Steven Spielberg's company. To me, it was like an extension of film school—to be on a film set and watch the best directors in the world craft movies and then I got to tell the story of them making their movies. I couldn't have had a better education in storytelling.
SM: What advice can you give to some of the Writers and Producers at the TV Writers Vault breaking into the industry? Many have option deals, but just can't get that one project to go the distance for production.
CC: First, be as literate as you humanly and possibly can, because the ability to articulate an idea is as important as anything in the business. Hone your skills and really pay attention to your ability to articulate an idea in an energetic, interesting, and smart way. Secondly, don't always listen. You need to take all of the advice that you get on your ideas with a grain of salt because ultimately everyone's going to have an idea and an opinion. If you believe in your ideas, you have to stick with them because passion and skill will rule at the end of the day.
There are so many people who believe they know what's best, but they're all at best opinions. There is no right answer. If there was a formula for making a hit TV show, there'd be more hit TV shows. You'll walk into a thousand offices for a thousand pitches and they'll all be absolutely convinced they know exactly what their audience wants.
SM: When you're producing, do you focus on any one area of Producing more than another? What is your favorite task in the process of producing, from conceptualizing to editing?
CC: I don't focus on any one task. I do stick very, very heavily to the creative side—anything that deals with the creation and the creative management of a property rather than the means of production. My interest is really in the story outcomes and the creative side, from casting to the shoot day to the edit bay.
SM: Is Hollywood a collaborative community driven by "idea", or an insulated machine driven by formula?
CC: That's a tough question, and there is no right answer to that. It's both. The measure of the Hollywood experience is the quality of the executive that you deal with. Good executives put you into a collaborative process, bad executives operate from fear-based positions and follow formulas.
SM: With the rise of New Media, is this an area that drives you when producing new projects? Or is it just a great ancillary benefit after a show is a hit?
CC: Don't let new media dictate what we're looking to do. There are so many outlets. There are so many ancillary revenue streams. I focus on storytelling and the hour of television that we are producing. And then I let somebody else worry about all the other ways to take advantage of new media. Out of success is generally where the new media models are born.
SM: Beyond your own talent as a Producer, what does Angel City Factory bring to the industry that some other companies don't?
CC: You build the business culture that you're in and you look at your competitor's material and you admire their skill set, but you don't really know how they get their jobs done. Honestly, I don't know how other companies work. We try to identify ourselves by our skill as producers and ultimately our model is based on what we hope is superior creativity. In the end, we want to give an idea the best chance to survive in a very difficult market.
SM: If we look at your talent for producing, what single thing has given you an edge in finding success above others in this highly competitive industry?
CC: I'll say humility.